Updated Oct. 28, 2022
COVID-19 Vaccination Recommended for Everyone 6 Months and Older
The Centers for Disease Control and Prevention (CDC) recommends that everyone 6 months and older get a COVID-19 vaccine. Everyone 5 years of age and older should get a booster dose when eligible.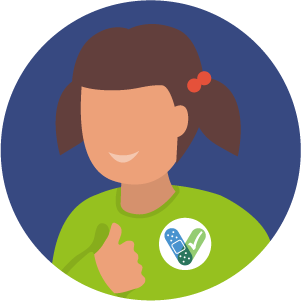 Primary Series
While the vaccines used are the same, the size of the dose for children is smaller than the doses that teens and adults receive. Dosage is based on age on the day of vaccination, not on weight. The vaccines come in a different vial with different packaging.
Pfizer-BioNTech
Age: 6 months to 4 years - 3 doses
Timing: 3 – 8 weeks between first and second dose; at least 8 weeks between second and third dose
Age: 5 – 17 years - 2 doses
Timing: 3 - 8 weeks between first and second dose*
Moderna
Age: 6 months to 4 years – 2 doses
Timing: 4 – 8 weeks apart
Age 5 – 17 years - 2 doses
Timing: 4 – 8 weeks apart
Novavax
Age: 12 – 17 years
Timing: 3 – 8 weeks between first and second dose
Janssen (Johnson & Johnson)
Not authorized for use in individuals under 18 years of age.
For information about booster doses for these age groups, please see How Many Doses Do I Need?
Children and Teens Who Are Moderately or Severely Immunocompromised
Children and teens ages 5 – 17 who are moderately or severely immunocompromised need a third dose to complete their primary series and they will also need to receive a booster dose(s) when eligible. For information about booster doses for these age groups, please see the How Many Doses Do I Need? page.

Fact sheet: How Many Doses Do I Need?
*Talk with your provider about the appropriate timing between your child's first and second dose. People ages 6 months – 64 years, and especially males ages 12 – 39 may consider getting their second primary dose of an mRNA vaccine 8 weeks after the first dose. This longer time frame may increase the protection offered by the vaccine and minimize the rare risk of heart problems like myocarditis and pericarditis.

If Your Child Has a Birthday Soon
If you are seeking vaccination for a child who will be turning 5 or 12 soon, you may wonder which vaccine dosage they should receive. CDC recommends that individuals receive the dose that is appropriate for their age at the time of vaccination. For example, children 11 and younger who are receiving the Pfizer vaccine should receive the pediatric vaccine and children 12 and older should receive the adult vaccine, even if this means switching vaccines over the course of their primary vaccine series. If your child's birthday falls within the timeframe for their primary series, they can receive the dosage for the next older age group after their birthday. If you are considering waiting to get the vaccine until after your child's birthday, speak with your child's provider to weigh the pros and cons.
---
Getting Your Child Vaccinated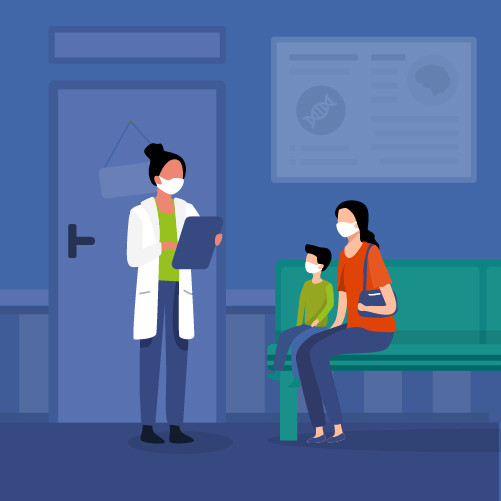 Before Vaccination
Your child may experience side effects after the vaccine that are similar to what adults experience. Make sure to talk with them about it beforehand so they know what to expect. See these tips for supporting your child before, during and after shots:
It is not recommended that you give your child pain relievers prior to vaccination as a way to prevent side effects.
Tell the person administering the vaccine about any allergies your child has.
Children should be seated or lying down during and for 15 minutes after vaccination to prevent fainting or related injuries.
Be prepared to stay for 15-30 minutes after your child's vaccination so that your child can be observed in case they have a severe allergic reaction and require immediate treatment.
Make sure you receive a copy of your child's vaccination card before leaving the appointment.
Consent
Make sure to check with the clinic first regarding vaccination policies for children 5 – 15 years of age, including what is required in terms of documentation of a parent or legal guardian's consent. See "Can kids and teens get the vaccine?" in our FAQ.
Timing with Other Vaccines
The COVID-19 vaccine can be given at the same time as other childhood vaccines or seasonal vaccines like the flu vaccine.
After Vaccination
Your child may or may not experience some side effects after receiving the vaccine. Children older than 4 are more likely to experience side effects after the second dose. Talk to your child's provider about what steps you can take at home to lessen symptoms, including providing a non-aspirin pain reliever. A cool, damp cloth on the injection site can help with pain. The vaccines' side effects are similar to other vaccine and may include the following:
Sore arm with pain, redness or swelling where the shot was given
Fever
Tiredness
Headache
Chills
Muscle or joint pain
Swollen lymph nodes
Children under 3 years may experience:
Pain where the shot was given
Swollen lymph nodes
Irritability or crying
Sleepiness
Loss of appetite
These side effects should go away within a few days.
Booster Doses
Booster doses of the Pfizer-BioNTech and Moderna bivalent vaccines have been authorized for use by the FDA and recommended by the CDC's Advisory Committee on Immunization Practices. Youth ages 5 years and older may receive the Pfizer-BioNTech bivalent booster. Youth ages 6 years and older are eligible to receive booster doses of the Moderna bivalent vaccine or the Pfizer-BioNTech bivalent vaccine. Boosters are only available after an individual has completed their primary series. See How Many Doses Do I Need? for more information.
Fact sheet: How Many Doses Do I Need?
---
Does Your Child Have Questions About Getting Vaccinated?
Just like adults, children have questions about getting their COVID-19 vaccine too. Watch this kid-safe video series with your child for answers to some of those questions. In it, Health Officer Dr. Francisco Velázquez answers kids' questions about the vaccine and getting their shot.